Forget about Full Reserve Banking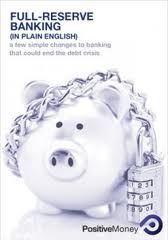 A large number of monetary reform proposals include Full Reserve Banking. However, the Money Power will continue to control the money supply in this scheme. The problem is not credit creation, but who's in control and what is he doing with that control. Getting rid of Usury is the main issue.

The Greenback, Social Credit, Positive Money, Austrian Economics, the Chicago Plan and undoubtedly many more propose full reserve banking. There is a general dislike of Fractional Reserve Banking. The idea is, that money through bookkeeping is unfair.
We have always believed that we borrow from savers. Because of this programming, we instinctively want to 'repair' the situation by making it what we always thought it was.
And this is a grave misunderstanding: the problem is not credit creation, it's interest.
When we calculate that a mortgage at 5% over thirty years costs 150% of the principal in interest, we can easily see that this has nothing to do with 'costs' for the bank. Managing such a risk free loan over thirty years should never cost more than 10% of the principal.
Interest on mortgages which are created by bookkeeping are wholesale plunder. The bank doesn't risk anything anyway, since there is the house as collateral. To say housing is under water today is not a valid argument: the banks create the boom-bust cycle themselves. Rational monetary management would not know sudden changes in prices, save for massive disaster. Only a few hundred years ago, when Usury prohibition was already on the wane, a combination of collateral and interest was unheard of. It was either the one, or the other.
But to say then, that we will solve it by ending double entry bookkeeping? Shouldn't we just end the usury on the bookkeeping and let the credit facility take a small one off percentage as a handling fee to cover its costs?
Double entry bookkeeping knows credit and debit by nature.
The key issue to understand is that it is not the bank's credit, it's ours. We give each other credit. The credit is mutual. We allow each other to buy now and pay later. The bank only does the bookkeeping. In the current paradigm the bank has usurped this credit and is extorting us through interest on it.
Consider it for yourself: would you prefer to continue to pay $300k interest over a $200k mortgage to savers and a bank, or would you prefer to pay 0% interest to a credit facility?
Case closed.
The Money Power is comfortable with Full Reserve Banking
Of course the right to create credit must be taken away from the Money Power and its banks. We cannot allow them continued control, even without Usury. They'd continue to boom/bust the hell out of us.
That's another problem with Full Reserve Banking: it's still, well, banking. We need to get rid of banking altogether. This in itself is an important point. No real monetary reform is thinkable while leaving the Banks alive: a vampire will not lose its tricks. It was bred to suck blood. It will always look to reassert domination.
This problem shows also with Full Reserve Banking: the banks would regain full control over the entire money supply in a short while.
Should we replace our current money by spending into circulation a batch of debt free money, the Money Power would quickly get a hold of a sizable chunk of that batch. Both through its own wealth and income of its Transnationals. It would then start lending this money out at interest in her banks that have switched to Full Reserve Banking. It would then continue to not spend, but lend their profit through interest back into circulation. Thus, through compound interest, the entire money supply would end up again with the Plutocracy within a few years.
The Money Power cares not whether it gets its interest through Fractional Reserve Banking or Full Reserve Banking. It cares not whether it is paid in paper or in coin.
The Money Power cares about the Trillions in interest it rakes in yearly.
Conclusion
The IMF is discussing it openly and positively. Gold based full reserve banking is the classical Austrian approach. Why? Because it is does not touch Usury.
That's why the talking heads of the Mainstream are always talking about debt, debt, debt. They even talk about burning creditors. But never about stopping interest payments. While even Greece could pay off its entire national debt in 20 years just with what it loses to debt-service now.
Usury is the heart of the matter. Full Reserve Banking does not end it. Interest-Free Credit by bookkeeping does.
Related:
Full Reserve Banking Revisited (discussing the IMF's paper on the Chicago plan)
The Problem is not Debt, it's Interest (with Video)
Gary North's Bluff: the Lie he's been sitting on for 50 years
Debt free money alone does not solve compound interest
Mutual Credit, the Astonishingly Simple Truth about Money Creation