More on Inflation, the Value of Money and Money as Part of the Commons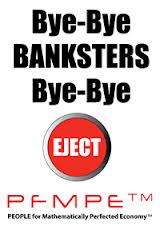 A lively discussion ensued after the article on MPE's take on inflation. But the basic issue remains: a misunderstanding about what determines the value of money.
I realize it's all unpleasant.
I want to thank all who participated for the level of discussion on the previous article, both in term of content and tone of voice.
A Recap
The whole discussion focused on price stability in MPE, with the MPE advocates maintaining prices will remain stable.
Whereas I stated that people could spend as many promissory notes as they had assets to back them with, this was nuanced, by the explanation that there is an organization (CMI, Common Monetary Infrastructure) that manages some issues, including checking whether people will have sufficient income to service the promissory note.
So people can spend promissory notes that they can both service and back with assets. Also, no asset can be used more than once to back a new promissory note, this is also useful to add.
What it all comes down to is this: MPE believes that the value of money is dependent on the underlying asset.
But the value of money is simply a matter of supply and demand in the economy. That's the whole crux.
MPE implicitly assumes that there is always demand for asset backed paper. But the problem is that this paper is not very liquid. For instance: a promissory note spent to buy a new house can be paid off over the life span of the house, which could be a hundred years or even much longer.
What is the cash value of a paper asset nominally worth 100 that will mature over the coming century? 10? 20? 30 maybe?
Meanwhile, a great deal of this paper would flood the market, because in an interest-free economy people would have vastly improved creditability.
The value of money is not the underlying asset. Simple proof of that is basic debt free money. Just paper spent into circulation. There is no underlying asset. Still it has value. Why? Because we agree to use it as money and there is a certain demand for money in the economy. How much demand? It depends on how much is needed, how much is available and its price.
More money in circulation means a lower price for it and higher prices for all other assets. This is what MPE simply denies. This is also why its take on inflation is important. Interestingly, nobody addressed my basic critique that both growing volume and usury cause higher prices, not just usury. But failing to correctly address pure inflation in the economies of the West in the last few millennia, including Zimbabwe, is the basis for too many promissory notes in MPE.
While we create the money as credit, once it's spent into circulation, it is ruled by the laws of money, not credit.
The Promissory Note versus Money as Part of the Commons
The promissory note is MPE's answer to how the bank usurps our credit. MPE correctly concludes the bank doesn't lend anything and that 'their' credit by bookkeeping is in fact our credit. The bank in fact creates the credit for us on the basis of our promise to pay. But if our promise to pay is all it takes, why do we need a bank? Let alone indentured servitude (usury) in return for exercising our right to promise to pay??
And since sovereigns and the opulent have forever paid with promises to pay, then perhaps so should we. That's basically MPE's take. We don't need to go to a bank, we don't need permission, there are just some basic rules, there must be assets and there must be enough income to service the promise.
In this way, MPE also avoids the annoying notion of debt. When using a promissory note, we are not going in debt, we are exercising our right to pay later.
Personally I believe MPE takes it too far here. Money does not exist in a vacuum. Why is money so difficult to reform? Because we need each other to make it work. My promissory note is dependent on your acceptance and vice versa. Money is an interplay of individuals. Of individuals and the 'community', whatever that may be.
To end the bank's obfuscation (usurpation), we cannot just say, it's not yours, it's mine. Because it is ours too.
MPE, like so many, including myself, wants to avoid having to go someplace and face some technocrat and be dependent on him having a good day for you to get what you basically have a right to.
But the bottom line is: our promise to pay does imply a debt. To the community at large, who allows us to buy now and pay later. All individuals ('the community') allow each other this, this is the essential nature of mutual credit.
So I think it's difficult to avoid: we will need some sort of credit facilities (not banks) who will have to manage it all. They should have clear charters and the understanding should be that within in certain rules we have a right to the credit and not because the credit facility is so good to us, but because it is our right and the credit facility only represents the community and does nothing but keeping the books for us.
But the credit facility is necessary, to make sure the assets are there, and that there is indeed the income to service the debt and, yes, to make sure the volume is managed properly.
We will have a right to credit, but not to as much credit as we like. Money is a part of the commons and it's not unlike land and reforming land also does not mean that we just say go out there and take what you want. Simply because there is a limited supply of it.
How to manage volume?
The simple fact is: 2000 years of monetary theory and practice does not provide a clear cut formula in the sense that we can mathematically say 'this economy needs so much money'.
But there are basic pointers. If both the volume of money and prices are rising, than most likely inflation is the cause and rising prices the effect. Deflation will cause economic contraction. Money scarcity will cause permanent depression. If money is scarce, adding money will not lead to rising prices, but to more activity.
Velocity of money is equally important to volume and the real volume of money is nominal value of the money supply times velocity of circulation. Usury slows down the velocity of money. A demurrage accelerates it.
The Money Power always makes sure money is scarce and Usury always causes money scarcity, there is never enough money to pay off interest + debt.
To manage volume, we must monitor economic activity and price levels. If activity is sluggish, money scarcity might be the problem. Add money until prices rise. If activity is still below par, there are other economic problems.
We must create as much money as stable prices allow and no less to avoid money scarcity. If economic activity grows, more money must be added to finance the extra activity, otherwise money scarcity will return and the economy will grow less than it naturally would.
This can be reasonably managed by a competent currency board. It's not rocket science. If sufficient people in society realize what is going on, this can be managed transparently.
Conclusion
A Usury Free economy will see great abundance. The living standards of the many will rise several times over. But this abundance does not show by endless credit. It shows through lower prices, shorter working weeks, higher wages, self-employment, co-ownership, high levels of home ownership and low rents.
Mathematically Perfected Economy provides a high level appreciation of many monetary issues. There is great merit in Mike Montagne's long standing efforts to address the most crucial issue of Usury, not just by analyzing the problem, but also by providing an attempt at an integral solution.
But the outright denial of the importance of 'circular inflation' for price levels is simply not substantiated with a real case and does nothing to address the clear and present evidence of the historical record. This shows in its management of volume of promissory notes.
This mistaken analysis of volume is quite prevalent in the wider interest-free credit community and will really have to be solved if the community is going to move on to the next level and make a real difference in the struggle against Usury.
Related:
Mutual Credit and Inflation
Interest-Free Credit (including MPE!) and the Management of Volume
How to manage the Volume of Money in Mutual CreditThe Cult of Mathematically Perfected Economy and its Ridiculous Stance on Inflation