Bitcoin: Paving the Way for a Global Cashless Society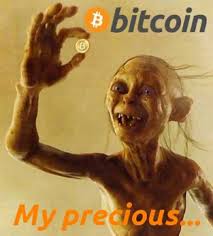 After five years of Bitcoin, the verdict is out: it is a 'free market' Globalist dream, paving the way for a global cashless currency.
For HenryMakow.com and Real Currencies
It's impact is quite stunning, there is little doubt about that. It started trading in early 2009 at just a few cents. Late 2011 1 Bitcoin was worth $6 and now people pay about $650. A little while back it actually reached $1000, when Chinese buyers started weighing in. It then took a big hit when the Chinese Government clamped down on it, citing 'lack of consumer protection'. Bitcoin has crashed a couple of times on the way up, but has continued to rebound.
Major retailers all over the world are now starting to accept it.
But while this remarkable appreciation is the key to its perceived success, it is actually symptomatic of its main problem: it was designed to be scarce. Its rising price shows there is greater demand than supply.
When money rises in value, all other assets decline. It is good for those holding money, bad for those offering labor or goods and services, i.e. the real economy. In this way it behaves very much like Gold, which is also infamous for its deflationary nature.
Because it is appreciating so strongly, hardly anybody is paying with it. While the total outstanding value of Bitcoins is now somewhere between five and ten billion dollars, real trade is minimal. Who is going to pay with Bitcoin, when it is going to be worth another hundred times more in two years?
To be effective in servicing real trade, the money supply must grow and shrink with economic activity, allowing stable prices.
As it stands now, Bitcoin is a wholly bogus speculative item, with no real economic significance at all.
And it's a pure ponzi scheme, of course. Later adapters pay for the gains of those helding Bitcoin from the early stages. As long as there are new buyers, it's party time, but it's ultimately unsustainable.
Money Power Control
Money Scarcity is, together with Usury, the hallmark of Money Power control. This week the story broke that Wells Fargo is now considering offering Bitcoin services. Undoudbtedly they'd be interested in offering saving and lending 'services'.
Bitcoin is spent into circulation debt-free, but then will be lent out at interest by the bank. Compound interest lending will allow the banks to gobble up the whole money supply in just a few years.
The CIA's In-Q-Tel investment arm was involved with Bitcoin from the early stages and while it's speculation, I'd be willing to bet a fiver the market has been cornered already.
Bitcoins are 'mined': computers must solve complex algorithms to acquire new Bitcoin. Clearly this is a rather irrational way of creating money, again mimicking Gold. Every new Bitcoin comes with a more complex algorithm, requiring more computing power. At this point only major players (like banks) have the computing power to mine new ones.
Clearly there are better things to do for supercomputers than such an artificial procedure. The more so since we can create abundant, interest-free money through bookkeeping.
A few weeks ago it transpired that JP Morgan filed a patent for a Bitcoin like architecture.
But already in 1998 the NSA wrote an extensive report, 'predicting' (or planning) a peer to peer electronic unit, quite similar to Bitcoin.
Bitcoin's appreciation is of course an excellent marketing gimmick: the Libertarian techies who picked up on it early are now rich and are a good fanbase to build on. There is a vibrant Bitcoin community, keeping the dream alive. This is quite similar to what happened in the Bush years, when the Money Power controlled potential opposition by selling them a few ounces of Gold, creating a large base of faithful pseudo-opposition clamoring for the 'reform' they want anyway.
The Mass Media have welcomed Bitcoin. Sure, in the early stages there was some bewilderment and scepticism, but we have seen huge media coverage for Bitcoin from the word go. Had it been a threat, it would have been ignored and if that hadn't worked, attacked.
Bitcoin is not anonymous, although many believe it is. All transactions are publicly logged. While it's possible to operate discretely, if the community sees a problem, they tend to find out quickly who's who. Centralist control of its use is thus possible, notwithstanding its peer to peer character.
And Bitcoin is a global phenomenon, which obviously is very pleasant for our globalist masters.
Conclusion
Bitcoin is driven by greed, it's in no way a rational solution to our monetary problems. It's global, scarce, cashless and soon the first banks will provide usurious lending.
The lesson is: as long as we hope to breed money from money, not realizing it's usually our own labor that breeds money for those holding a lot of it, we will be fooled by units like this.
Money must be cheap (interest-free) and plentiful, but stable. Only then can it be a good medium of exchange, allowing the producers of society the benefits of their labor, instead of the providers of capital.
Bitcoin offers none of these features.
It has the Money Power's fingerprints all over it.
Related:
Is the National Security Agency behind Bitcoin?
Baffling Bitcoin
Bitcoin, Impressive but Flawed
Cause and Effects of Money Scarcity