a little matter of communication
These days it is common for people to look for ways to express themselves in positive ways. Meaning they try to articulate what they want, instead of what they want to get rid of. For instance, they say 'I want to be healthy', instead of 'I don't want to be sick'.
This is a useful trend, because traditionally people have been expressing themselves negatively, emphasizing problems, instead of visions and solutions.
While I agree that it is important to have a clear picture of what we want, it is also necessary to understand and express what we don't want. I'll give a few examples of why this may be relevant.
– In Neuro Linguistic Programming (NLP) there is the concept of meta-programs. There are several of them, the relevant one to us is called 'Outcome Preference'. It says some people are motivated by getting rid of a certain problem (moving away), others are motivated by a positive vision (moving towards).  I'd like to add that both modalities are in us all, although each individual emphasizes one them. So when we are communicating with a group, we need to be aware of this meta-program operating in our audience. Therefore we should explain both the problem and the solution.
– In the Tarot we find key 16, the Tower.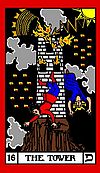 The basi
c meaning of the Tower is that of error, that needs to be destroyed for truth to be implemented. In the picture we see the lightning, representing insight. This insight destroys the old construct of error. What it means is, that in this reality that is continuously transforming we always leave something behind, while moving towards something else. Both parts of this process, getting rid of error and moving towards truth are necessary. So why not communicating about both of them?
– And then there is the Great Communicator Himself. Jesus has us say in the seventh verse of His prayer: "Lead us not into temptation, but deliver us from evil". A nice juxtaposition of a do and don't.
In short, it is very relevant to communicate about what we want to leave behind. Also in our inner dialogue we should give sufficient attention to what we want to mend. There is no use in ignoring the negative and it is not true that negativity goes away by ignoring it, or that giving negativity attention makes it grow.
The opposite is true: 'Not this, but that' is a very powerful way of expressing ourselves, bringing us closer to our target.