Muammar Gadaffi and the Money Power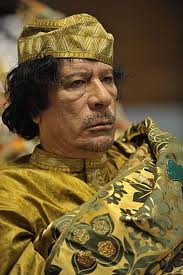 Muammar Gadaffi left a mixed legacy. His people were far better off than all the rest of Africa and most of the Arab world. But he was also a highly connected billionaire Freemason and Zionist, promoting a Gold backed all African currency, which clearly was a Money Power project.
Muammar Gadaffi was comparable to Saddam Hussein. For decades he was a useful tool for the Plutocracy. Both as a solid supplier of oil and as a favorite boogeyman some times, good friend at others. And when he had served his purpose they showed no mercy and treacherously stabbed his back.
No doubt Gadaffi realized this was always a possibility. One doesn't rule for almost half a century without common sense.
He did put up a heroic resistance, backed by a large part of the Libyan people.
Like Saddam, Gadaffi built a fairly modern nation. Of course he was no angel, ruling with an iron fist and making certain he had a little something on the side for a rainy day. But the average Libyan probably felt safe enough and Gadaffi shared the Oil wealth  generously with his people: extremely cheap fuel, interest free mortgages. Cash handouts of tens of thousands of dollars to newly weds. To name just a very few.
At the time he came to power, Libya was an impoverished ex Italian colony. When he was murdered, if he was, it was Africa's most prosperous. It is now devastated.
According to Huffington Post 30.000 are believed to have been killed and 50.000 wounded.
Libya was one of those few countries with a truly National Central Bank, not (directly) under control of the Money Power. When the rebels were still just being built up by Nato in Benghazi, they did find the time, resources and most importantly, the expertise, to draft legislation for an 'independent' Central Bank.
As an Islamic Nation Libya is not friendly to usury of course. So the invasion also fits perfectly in the strategy to make Islam safe for Usury.
On the other hand, Gadaffi was promoting an all African Gold Dinar. A blatant Money Power project. Both because of its supranational character and because of its Gold aspect.
Interestingly, the Daily Bell's Anthony Wile ignores the supranational character of Gadaffi's Gold Dinar in his analysis of the situation.
The fact that Gadaffi is now a martyr is very welcome in associating him with an African Currency.
We await with trepidation who the next victim will be.
Here is some interesting analysis from an Islamic perspective