Hugo Chávez: Enemy of the US Empire, Marxist and Money Power Stooge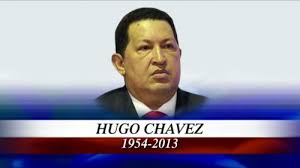 Hugo Chávez was loved by many, both in Venezuela and abroad. His fierce resistance of US Imperialism was welcome and much appreciated world-wide. But his domestic policies were openly Marxist and his most notable legacy is the Bolivarian Alliance for the America's, aiming at social, economic and political integration of Latin American Nations. In short: he was a globalist.
By Anthony Migchels for Henry Makow and Real Currencies
Hugo Chávez is no longer with us. We'll miss the old rascal: it's always pleasant to hear people denounce the US Empire. He also did much to alleviate at least the worst of the poverty suffered by millions in Venezuela. These people were tyrannically oppressed by the Empire's rule over Latin America, especially through its corporations. Millions will never forget him for it.
Resisting the Empire and helping so many out of the gutter in the process are surely noteworthy accomplishments. But we have been blinded so often by the old adage that 'the enemy of my enemy is my friend'. And this is the case with Hugo Chávez too.
Bolivarianism
Was Chávez a mason? I guess he was. There is this masonic handshake with Obama. There are other signs. But I have not seen conclusive proof and it's not like he was flashing their signs all over the place, so let's reserve judgement until proof is delivered.
His great example, Simon Bolivar, definitely was. Bolivar led the rise against Spanish rule in northern Latin America in the early 1800's. His masonic watchword was 'liberty', fitting well with that masonic construct known as the United States, which only a few decades earlier gained 'independence' from the City.
He became the president of a major country, named Gran Colombia, which existed between 1819 and 1830. After gaining independence from Spain, the country succumbed to a power struggle between those wanting a strong centralized state and those looking for regional autonomy in a federation. Bolivar led the quest for centralization of power, an eternal tell tale of the real enemy. In 1830 Gran Colombia ceased to exist: the conflict ended when it fell apart in a number of smaller entities, Venezuela, Colombia and Ecuador. Later Panama seceded from Colombia.
One of the Banker's more memorable, yet unknown defeats. It certainly didn't damage the reputation of their man Bolivar and that is probably not a coincidence. Money Power defeats are not part of the history they write, lest they might inspire others.
Chávez made the reliving of the Bolivarian dream a key part of his agenda. Venezuela is a fairly rich country because of its oil and Chávez invested billions upon billions in his project, called the Bolivarian Alliance for the America's. It was Chávez' answer to the failed US driven 'Free Trade Area of the Americas'.
He financed FARC, a ridiculous outfit run by coke-dealers parading as Marxist champions of the people. True, they're probably not worse than the Empire run Government in Bogota. But it's always the same: the conflict itself is the goal and both protagonists either are directly run from the City, or are their most welcome stooges without realizing it.
The Marxist: did he really help the poor?
Chávez openly called for a 'socialism of the 21st century'. He denounced the Soviet Union as State Capitalism, which is a very apt description. But his own politics were similar in many respects. He created thousands of 'communal councils' throughout the country. In Russian that's 'soviets'. They are touted as wonderful examples of 'participatory democracy', but outfits like these are actually comfortably run from the top down with tools like the 'delphi method'.
He started tens of thousands of state-owned cooperatives, financed with government credit.
As a result, the private sector tanked: during his reign the number of private sector jobs declined with an astonishing 30%. Half of Venezuelans depend on the informal economy to survive. Public payrolls have ballooned.
Venezuela enjoyed an unprecedented oil-boom under Chávez and he used some of this money to build Social Services, alleviating the plight of the poor. Housing was a top priority for him and public spending on health also rose significantly, from 1.6% of GDP in 2000 to 7.7% in 2006. These are basically his main achievements. But an oil-boom will end and it remains to be seen whether the welfare state is sustainable with such a severely mauled private sector.
Chávez did absolutely nothing about the real issue: banking, debt and usury. The Venezuelan Central bank is State owned, like in most nations, except the US. But State owned means: providing State sanction to private banks to loot economy with their usury.
Its banks are private, many are run by his pals. There was a crisis in Venezuelan banking a few years ago, leading to nationalization of some of them. Meaning the Venezuelans were on the hook for their 'balances', better called black holes. He actually arrested a handful of bankers. But most were left to continue their plunder unscathed.
While he wisely paid off all debt to the IMF and the World Bank in 2008, Public Debt itself rose from $1400 per capita in 2002 to $3400 in 2010. During this time there was a major inflation, the Bolívar lost 90% of its value. Meanwhile, he fixed the Bolívar-Dollar exchange rate at only one third of the Dollar's real value, an incredible subsidy for Transnationals repatriating their profits and the wealthy importing luxury goods. The poor paid for this subsidy and it cost them untold billions.
In short: while redistributing wealth from the middle classes to the poor through taxation, monetary slavery, our real predicament, ruled supreme during his reign.
Chávez was a self-styled 'socialist-feminist', attacking paternal rights and the family.
"in 2008, during an event to commemorate the 9th anniversary of the National Institute of Women (which is now a government ministry) Chávez criticized machismo and declared himself a "convinced socialist-feminist".
"Socialists must be feminists or they won't be complete human beings. With the support of our women we must strengthen unity in Venezuela… We have to take firm steps towards…the total emancipation of gender and be more just with our women," he said.
He added that women were condemned by history, but the "Bolivarian administration developed community plans against family violence and in favor of single mothers, which has meant huge positive advances"." (Source)
The results have been predictable: sexual degeneracy, single mums and escalating teen pregnancy.
Also not helping the poor is the fact that Venezuela succumbed to an incredible rise in crime under his watch. Hard to believe, but these days one is more likely to be murdered Caracas than in Kabul or Baghdad.
As usual with commie strongmen 'helping the poor', Hugo took good care of himself: he seems to have owned between one and two billion dollars at the time of his death. Not bad for a kid from the gutter.
Conclusion
Many people will never forget Hugo Chávez. He helped emancipate the poorest. He scolded the Empire.
But his legacy is built on quicksand and in the typically Marxist way he did nothing to stop the root cause of poverty. All he did was destroy the private sector and the middle classes to give to the poor and to centralize power in Caracas by switching from a private economy to a State run one. The wealthy had nothing to fear and much to gain under his rule. He became very wealthy himself. Meanwhile he furthered the Internationalist agenda by laying the foundation for Latin American 'cooperation'.
It remains difficult to see for many that the evil US Empire is 'opposed' by no less evil forces. Be it the Russian, Chinese or whatever leadership.
Hugo Chávez was one of them.
Related:
The US Empire is Not the Money Power!
Muammar Gaddaffi and the Money Power
Is China part of the New World Order?