Enough of the Putin Worship!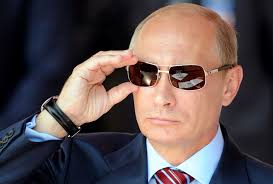 (Left: Grand Master Putin. But his game is poker, not chess.)
"We will strive to ensure a new world order, one that meets current geopolitical realities, and one that develops smoothly and without unnecessary upheaval."
"I recently had a talk with Henry Kissinger. I meet with him regularly. I fully share this consummate professional's thesis that close and trusting interactions between Moscow and Washington are particularly important in periods of international turbulence."
Putin in 'Russia and the Changing World' 2012.
Russia's central bank is Rothschild and oversaw the proliferation of commercial banking in post-Soviet Russia. 'Give me control of a nation's money and I care not who makes the laws'……
Who created the Oil boom that allowed Russia to rebuild its army? Why, the US Empire in its quest to defend the Petrodollar of course! When will we learn about multi faceted strategy coming together? The Money Power's strategists are good at what they do and this is just a case in point.
Putin did not kill Oligarchic rule in Russia, what nonsense! He pushed back Berezhovsky and Khodorovsky, because they were a threat to the Russian State, which the Money Power needs to be strong and centralized. The Putin – Oligarch deal is quite clear: The Kremlin for him, the economy for them.
Why is he not providing interest-free money to the people? Why is the population in Russia still tanking after 15 years of his rule? Where did all the Oil money go besides the Oligarchs and the weapons industry? Why is he not exposing the bankers that are running this show? Why is he pretending this is a conflict of nations?
And why is Putin so assertive? Because China is behind him.
We want to take sides, but Russia is just another Empire and would love to rule the world if the US were not in the way. 'They' always have us choose between evil and lesser evil, but when are we going to make some choices of our own?
Managed Conflict is the goal and the means on the road to World Government.
The decapitation of the US Empire and the Dollar is longstanding Money Power policy. The US is a Colussus on clay feet, it's already dead. Anybody can see that.
Babylon is bigger than the US, bigger than Jewry. It's temporal power and it is One. Its core is the Capitalist global monopoly, encompassing first and foremost banking and secondary all major Transnationals.
World Government is just the externalization of the age old hierarchy.
Enough of the Putin worship! Give Peace a Chance!
Related:
The US Empire is Not the Money Power!
Hugo Chávez: Enemy of the US Empire, Marxist and Money Power Stooge
Is China part of the New World Order?
The Dying Dollar and the Rise of a New Currency Order
The Few Banks that Own All
Does Rothschild own all Central Banks?