Bernard Lietaer Has Died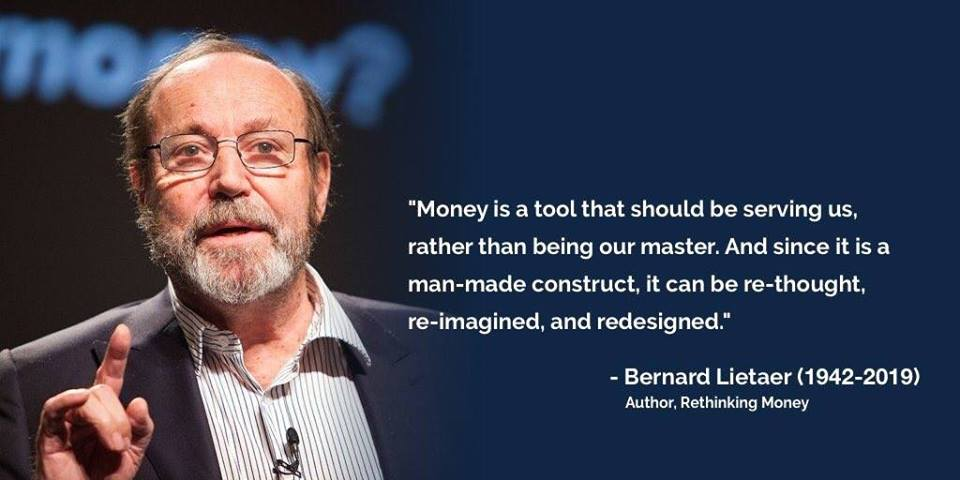 Bernard Lietaer has died yesterday, or by now the day before yesterday, February 4th.
R.I.P.
I only met him once, and know nothing of him personally, but his work has a special place in my heart.
When Bill Still's Money Masters film suddenly shook me out of my political immaturity, the first real question I had was: 'ok, when Bankers rule, they'll rule through money. So I better find out what the hell money actually is.'
This was a quite pertinent question, and I remember that stage vividly. And within days, in a completely natural synchronicity, Bernard's essential book, 'Het Geld van de Toekomst', 'The Future of Money' landed in my lap.
This book is brilliant, and quite groundbreaking. It lays out in detail what money is, what the current problems of money are. Including an introduction into the problems of Usury. And it provides one of the first (to my knowledge) rational comparative analyses of several major basic complementary currency designs.
Something I later built on quite substantially in the articles consolidated in the interest-free-economics page on the blog. (http://realcurrencies.wordpress.com/interest-free-economics). And of course in the research and development of De Florijn (and the underlying Talent Architecture).
To this day I use (ok, very slightly improved) his basic definition of money: 'anything that is agreed upon within a community to be used as a means of exchange). In fact, I was just mentioning it earlier today in an interview for Alwareness TV, an Amsterdam based independent media outlet.
Lietaer, in his seldomly astute and truthful analyses most certainly laid a solid groundwork for my own work, and I'm positive he had quite an impact on many more people.
He was definitely a key thinker in the European monetary reform movement, which is much more concerned with Usury and scarce money than the wider Alternative Media´s fascination with ´money printing´ and ´inflation´, which are only symptoms of the core disease. Although in America too, Lietaer had his impact.
Of course, there were also limitations. For instance, when I had the pleasure of meeting him once, in Antwerp, I was actually a little bemused to find he supported the Chicago Plan. Which, as we know, does not really do that much against Usury, and leaves the backdoor (to put it mildly) wide open for the Money Power.
He also was rather mild in his ambitions for complementary currencies. Promoting sustainability, taking off the worst edges of poverty, promoting social cohesion.
All fine and dandy, of course, but in my view there can be no doubt that every self respecting currency designer should have no other goal than working towards the complete obliteration of the Tyranny of Banker Money, by meeting society's need for credit with stable, easily accessible and ultra cheap interest-free credit.
And while Lietaer undoubtedly realized that the Bank rules, I don't think he really would have (more than theoretically) agreed with this.
But in life it's nice to quibble about these trifles, in death what remains is gratitude for such a major contribution to interest-free economics, both in theory and practice.
For what amounts to creating such a ripple in the Matrix.
Related:
Usury: why we don't build Cathedrals these days….
Positive Money and the Chicago Plan
Margrit Kennedy Dies